More than 200 events will bring the entire town to life with concerts, itineraries, museum opening, meetings and shows.
From December 8 to January 8, light installations and events will make some of the main sites and monuments of the city (even) more fascinating and beautiful!
More
A quick guide and a few tips on museums, large-scale outdoor installations, sculpture parks, photography exhibitions, street art…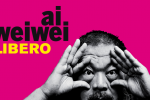 TweetIf you're coming to Tuscany this fall, there are many temporary art exhibitions you definitely should add to your to-do list. Salvador Dalí and Ai Weiwei are only some of[...]
Get ready for a new way to enjoy the beauty of Siena: a journey through time, emotions, myth and beauty.