Category:
Contemporary Art
A quick guide and a few tips on museums, large-scale outdoor installations, sculpture parks, photography exhibitions, street art…
TweetWe are used to praising Tuscany for its treasure trove of historic art. This is for good reason, of course, but we should nonetheless consider this region capable of producing[...]
More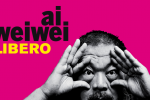 TweetIf you're coming to Tuscany this fall, there are many temporary art exhibitions you definitely should add to your to-do list. Salvador Dalí and Ai Weiwei are only some of[...]
The ancient streets and timeless buildings of Cortona are the exclusive setting of Cortona On The Move – Photography in Travel, an international photography festival.
From November 18 to 22, "The Screen of the Arts" Film Festival brings to the big screen contemporary art and cinema.