Let's discover some fun facts about Ponte Vecchio you might not yet know!
From December 8 to January 8, light installations and events will make some of the main sites and monuments of the city (even) more fascinating and beautiful!
More
A quick guide and a few tips on museums, large-scale outdoor installations, sculpture parks, photography exhibitions, street art…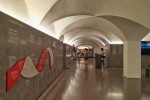 TweetJust when you think you have seen it all, Florence is always ready to surprise you with something new and different. This June, Tuscany's regional capital reopened a fully renovated[...]
A festival will fill with music the spectacular Hall of Paradise.