On May 28 a huge wine event will take place: large estates and small farms will open their cellars.
Tweetby Elisa Scarton Detti It's hard to say arrivederci to summer in Tuscany, which is why the Maremmani in the region's south always do it with a glass of wine more »
More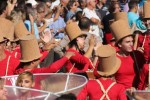 September is the wine month, while October and November mean olive harvest, truffle hunting, mushrooms, chestnuts and … squids!. Take note of these top festivals for foodies in Tuscany.