80 hectares of archaeological excavations, overlooking the sea and with amazing views of the Tuscan Archipelago.
Most Recent
Over 200 unique opportunities to discover our archaeological heritage.
The Boboli and Bardini Gardens are transformed into art workshops for the exhibition "Retrospective for two gardens."
More
This summer, two of the most charming towns in Tuscany will host two great art events.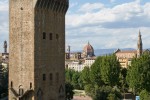 One of the most beautiful and best preserved towers of Florence is now open to the public. Climb it and enjoy Florence!
The accessibility of the major museums and monuments in Siena and Arezzo.