Let's discover some fun facts about Ponte Vecchio you might not yet know!
Most Recent
More than 200 events will bring the entire town to life with concerts, itineraries, museum opening, meetings and shows.
We are used to praising Tuscany for its treasure trove of historic art. This is for good reason, of course, but we should nonetheless consider this region capable of producing[...]
More
Parks and gardens, big or small, well-known or almost unheard-of. A "green" itinerary to enjoy Tuscany.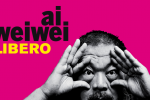 If you're coming to Tuscany this fall, there are many temporary art exhibitions you definitely should add to your to-do list. Salvador Dalí and Ai Weiwei are only some of[...]
Get ready for a new way to enjoy the beauty of Siena: a journey through time, emotions, myth and beauty.